THE PROCESS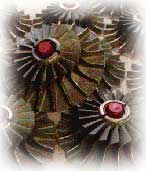 Over the past 45+ years, Anodic has developed special expertise in engineering and chemical disciplines that have positioned us on the leading edge of anodizing technology. New engineering technology integrated with our reservoir of hands-on experience affords our customers unsurpassed services.
Anodic offers more than anodizing. Call upon us for value added, no charge consulting services. We would be pleased to assist you in part design that will best accept selective or full coating. As a customer of Anodic, our 45+ years of experience is always available.
At Anodic, unswerving attention to detail is our minimum standard.
Our unswerving dedication to detail plus 45 years of experience assures Hardcoat Anodizing Excellence.
Anodic offers a full line of processes that include military, aircraft and commercial specifications which follow specific Mil-Specs. These processes include Chromic acid anodize, Sulfuric acid anodize, Hardcoat and Chem film (alodine). we also provide Teflon* (TFE) impregnation, metal cleaning, etching, sealing, masking and dyeing.